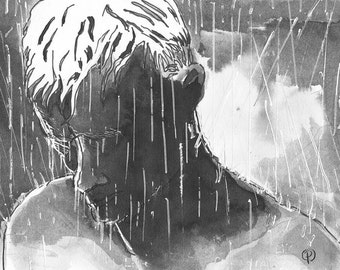 The last breaths of a person's life are probably the most weighted moments of his/her entire life.
The scene you are about to watch is from movie Blade Runner, directed by Ridley Scott. It is based on a short story by Philip K. Dick named "Do Androids Dream of Electric Sheep?". This movie is one of my all time favorites and it kept me glued to the screen till the last scene.
Speaking of the last scene, the scene embedded below is definitely the climax of entire movie. In this scene, Roy Batty (played by Rutger Hauer) who is being hunted down throughout the movie by officer Rick Deckard (played by Harrison Ford), saves the life of Rick Deckard and then recalls his remarkable short life experiences before he takes his final breath.
In few short sentences, Roy Batty speaks out about what he had gone through and most importantly, what will become of his life experiences once he die.
I say this without a doubt that this scene is my most favorite movie in any movie I have ever watched. It punches right on the heart and makes you think what will become of your life experiences once you depart from this world.
Watch this scene and I highly recommend you to watch movie Blade Runner as it is regard as one of the best science fiction movies ever made.
Added for Word of the Day Challenge's Soliloquy